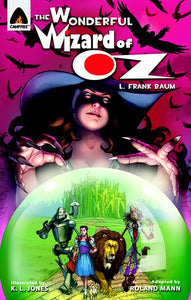 Campfire
The Wonderful Wizard of Oz
Regular price
$9.99
$0.00
Unit price
per
A powerful tornado rips through the Kansas prairie catching Dorothy inside her home. Trapped inside the vortex, the home floats for hours. When the house finally lands on the ground again, it kills a wicked witch.
Dorothy finds herself in new surroundings and is welcomed by the local inhabitants, the Munchkins, who tell her she is in Oz, surrounded by a great desert that cannot be crossed.
Dorothy's only hope of escape is to see the great Wizard of Oz. On her journey to meet the Wizard, she is joined by some unusual friends who also want favors from the Wizard. But the Wizard will not help Dorothy and her friends unless they do something for him: they must kill the Wicked Witch of the West!
Read Campfire's adaptation to know more about Dorothy's adventures in this delightful tale that has fascinated children for years.
---