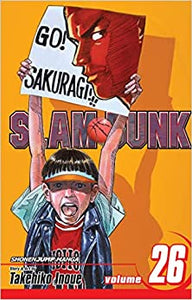 VIZ Media LLC
Slam Dunk, Vol. 26
Regular price
$9.99
$0.00
Unit price
per
The best-selling series from Eisner-nominated Takehiko Inoue, one of Japan's greatest manga creators.
Winning isn't everything in the game of basketball, but who wants to come in second? It takes dedication and discipline to be the best, and the Shohoku High hoops team wants to be just that. They have one last year to make their captain's dream of reaching the finals come true—will they do it?
With a slight lead thanks to Mitsui, Shohoku has their hands full as the game against Sannoh heats up. Sannoh's coach Domoto sends in Mikio, a player whose strength and size make up for his lack of experience. Coach Anzai counters by telling Shohoku to run their offense through Sakuragi, and the game becomes a battle between the two inexperienced power players. What Sannoh thought would be an easy win for them is turning out to be a lot more than they bargained for—Shohoku's here and they mean to go all the way to the top!
---