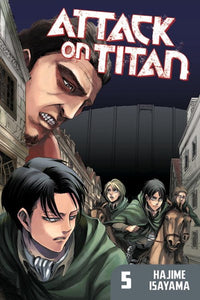 RANDOM HOUSE
Attack on Titan, Vol. 05
Regular price
$10.99
$0.00
Unit price
per
CAN YOU GO HOME AGAIN?

Thanks to Eren, humanity has taken the town of Trost back from the Titans. Exhausted, Eren falls into a coma for three days – and wakes in shackles, staring at Erwin Smith, leader of the Survey Corps. Certain that Eren's father's research holds the key to the mystery of the Titans' rise, Smith wants an expedition to retrieve it from the house where Eren grew up. But that's deep in Titan territory, and to get there Eren will need to master a power he still doesn't fully understand…

The megahit Attack on Titan anime finally returns, streaming on April 1!
Story Locale:
The post-apocalyptic future
Series Overview:
Humanity has been devastated by the bizarre, giant humanoids known as the Titans. Little is known about where they came from or why they are bent on consuming humanity. Seemingly unintelligent, they have roamed the world killing off humankind for years. For the past century, what's left of mankind has hidden in a giant, three-walled city. People believe their 100-meter-high walls will protect them from the Titans, which are 10 to 20 meters tall. But the sudden appearance of of an immense Titan is about to change everything.
---