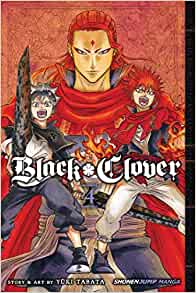 VIZ Media LLC
Black Clover, Vol. 04
Regular price
$9.99
$0.00
Unit price
per
In a world of magic, Asta, a boy with anti-magic powers, will do whatever it takes to become the Wizard King!
Asta is a young boy who dreams of becoming the greatest mage in the kingdom. Only one problem—he can't use any magic! Luckily for Asta, he receives the incredibly rare five-leaf clover grimoire that gives him the power of anti-magic. Can someone who can't use magic really become the Wizard King? One thing's for sure—Asta will never give up!
Complete chaos has broken out as the Clover Kingdom capital comes under attack by a group of mysterious terrorists. Asta and the other Magic Knights join the fight in order to protect the innocent civilians, but what exactly are the terrorists after?
---