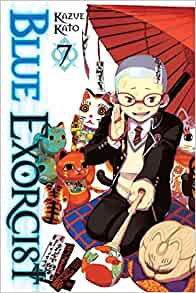 VIZ Media LLC
Blue Exorcist, Vol. 07
Regular price
$9.99
$0.00
Unit price
per
Rin and his exorcist classmates are caught in a secret war against the forces of darkness.
Raised by Father Fujimoto, a famous exorcist, Rin Okumura never knew his real father. One day a fateful argument with Father Fujimoto forces Rin to face a terrible truth—the blood of the demon lord Satan runs in Rin's veins! Rin swears to defeat Satan, but doing that means entering the mysterious True Cross Academy and becoming an exorcist himself.
Mamushi and Todo now have both eyes of the Impure King and are headed for the temple that was once the center of the Myodha sect. Mamushi wants to seal the eyes away, but may be too late to realize Todo's true purpose—the awakening of the Impure King! Meanwhile, Rin learns more about Father Fujimoto's connection to Tatsuma and the origin of the Koma Sword. Rin will need the weapon and all of his strength to face the terrible power of the Impure King!
---