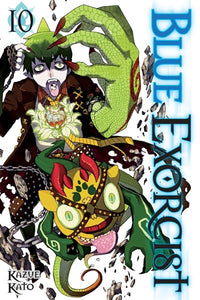 VIZ Media LLC
Blue Exorcist, Vol. 10
Regular price
$9.99
$0.00
Unit price
per
Rin and his exorcist classmates are caught in a secret war against the forces of darkness.
Raised by Father Fujimoto, a famous exorcist, Rin Okumura never knew his real father. One day a fateful argument with Father Fujimoto forces Rin to face a terrible truth—the blood of the demon lord Satan runs in Rin's veins! Rin swears to defeat Satan, but doing that means entering the mysterious True Cross Academy and becoming an exorcist himself.
With the defeat of the Impure King, the Exwires have returned to their routine lives back at True Cross Academy--but the routine doesn't last for long! Halfway around the world, a strange encounter in the desert is the harbinger of evil things to come. An upturn in supernatural incidents at the academy involves Rin and his friends, but their seemingly simple tasks are about to draw them into a far larger conspiracy. Powerful forces have begun to awaken and an old enemy prepares for a new conflict.
---