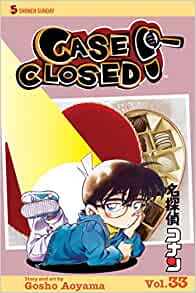 VIZ Media LLC
Case Closed, Vol. 33
Regular price
$9.99
$0.00
Unit price
per
Can Detective Conan crack the case…while trapped in a kid's body?
Jimmy Kudo, the son of a world-renowned mystery writer, is a high school detective who has cracked the most baffling of cases. One day while on a date with his childhood friend Rachel Moore, Jimmy observes a pair of men in black involved in some shady business. The men capture Jimmy and give him a poisonous substance to rub out their witness. But instead of killing him, it turns him into a little kid! Jimmy takes on the pseudonym Conan Edogawa and continues to solve all the difficult cases that come his way. All the while, he's looking for the men in black and the mysterious organization they're with in order to find a cure for his miniature malady.
Love is in the air as Conan and company face the most dangerous time of the year: Valentine's Day! Detective Sato of the Metropolitan Police has reluctantly agreed to an arranged marriage--unless her partner Takagi can work up the nerve to confess his feelings for her. But first he's got to catch a convenience store stickup artist who looks completely different to every witness! Can a phone call from Jimmy Kudo help him crack the case before he loses the girl?
Then Rachel and Serena head to a snowbound cottage in the mountains to make some of the famous local chocolate for Valentine's Day. But the legendary snow goddess who haunts the mountains seems determined to turn their outing from sweet to bitter...
---