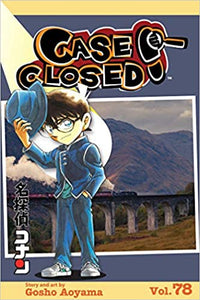 VIZ Media LLC
Case Closed, Vol. 78
Regular price
$9.99
$0.00
Unit price
per
Can Detective Conan crack the case…while trapped in a kid's body?
When ace high school detective Jimmy Kudo is fed a mysterious substance by a pair of nefarious men in black—poof! He is physically transformed into a first grader. Until Jimmy can find a cure for his miniature malady, he takes on the pseudonym Conan Edogawa and continues to solve all the cases that come his way.
MYSTERY TRAIN
All aboard! The Junior Detective League is invited to join a murder mystery game on a luxury train, only to find a lot of familiar faces among the passengers. When a man is killed and a train car vanishes, Conan suspects the crime is real, but will anyone believe him? And as the Men in Black close in on Anita, the identity of Bourbon, their ruthless undercover intel agent, is revealed!
---