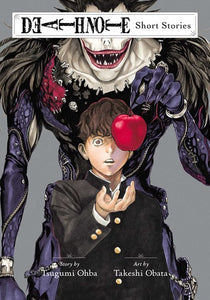 VIZ Media LLC
Death Note Short Stories
Regular price
$14.99
$0.00
Unit price
per
Kira's story may be over, but the Death Note's story continues in this collection of short stories penned by the series' creators.
A complete collection of every Death Note short story penned by the series' creators.
Releases once. Series ends at one volume.
One of the most successful manga series of all time, Death Note volumes 1-12, Death Note: How to Read, omnibus Black Editions, Death Note Box Set, All-in-One Edition, and two novels have sold a combined 1.8 million copies (Bookscan 9/21).
Never-published-in-print material includes the popular a-Kira story released online in 2020 to 1 million views in the first week, as well as vignettes featuring L's daily life.
Death Note Blu-ray deluxe box, DVD box sets and DVDs, and live-action films available from VIZ Media; film streams on Netflix.
---