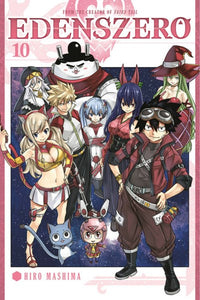 Kodansha Comics
Edens Zero, Vol. 10
Regular price
$10.99
$0.00
Unit price
per
It's here! The creator of Fairy Tail, manga superstar Hiro Mashima, is back with a high-flying space adventure! All the steadfast friendship, crazy fighting, and blue cats you've come to expect… IN SPACE!

ENEMY TERRITORY

After losing a battle with the mysterious Sylph, Rebecca finds herself in a luxurious bedroom, where she is greeted by none other than Drakken Joe himself. He reveals the reason he sent his minions after the EDENS ZERO—to get something he wanted. And that something was Rebecca!

Story Locale: SPAAACE!!!

Series Overview: A young boy gazes up at the sky and sees a streaming bolt of light. The friendly, armor-clad being at his side tells him gently, "That's a dragon." The fact that he's joking isn't important. What's important is the look of wonder on the boy's face… and the galaxy-spanning adventure that's about to take place! Join Hiro Mashima (Fairy Tail, Rave Master) once more as he takes to the stars for another thrilling saga!

13+

---