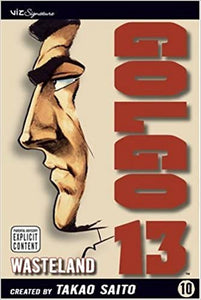 VIZ Media LLC
Golgo 13, Vol. 10
Regular price
$9.99
$0.00
Unit price
per
Assassination through space and time!

For four decades, Golgo 13 has been the world's greatest assassin for hire--sometimes to settle a private score, and sometimes to change history! His real name and nationality are unknown--but his legend is everywhere. G13 never fails a job, and never sees his clients again--unless they try to betray him!


Wasteland


1984: A year before Chernobyl, Golgo 13 is hired straight from a mission of death to carry out a mission of mercy: prevent the meltdown of a reactor that could render Los Angeles uninhabitable for 25,000 years! Then, in 1987, a lonely road in Nevada is the site of a surprising duel involving Golgo, in one of creator Takao Saito's personal favorite stories.

This volume's FILE 13 introduces you at last to Mr. Saito himself, in part one of an extensive interview!
---