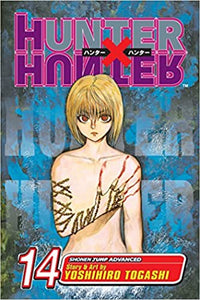 VIZ Media LLC
Hunter x Hunter, Vol. 14
Regular price
$9.99
$0.00
Unit price
per
Plucky Gon's quest to find his dad leads him into a whole world of crazy adventure.


Hunters are a special breed, dedicated to tracking down treasures, magical beasts, and even other people. But such pursuits require a license, and less than one in a hundred thousand can pass the grueling qualification exam. Those who do pass gain access to restricted areas, amazing stores of information, and the right to call themselves 
Hunters.


The multi-trillionaire Battera hires Gon and Killua to play the 
Greed Island
 video game for him, just as the two had hoped. But when they enter the game and head to a nearby town, they stumble onto one of the game's dark secrets. 
Greed Island
 isn't just a game--it has real-life consequences that can spell life or death for the players involved. And it isn't long before the Spiders enter the game themselves!
---