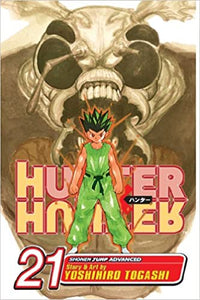 VIZ Media LLC
Hunter x Hunter, Vol. 21
Regular price
$9.99
$0.00
Unit price
per
Plucky Gon's quest to find his dad leads him into a whole world of crazy adventure.


Hunters are a special breed, dedicated to tracking down treasures, magical beasts, and even other people. But such pursuits require a license, and less than one in a hundred thousand can pass the grueling qualification exam. Those who do pass gain access to restricted areas, amazing stores of information, and the right to call themselves 
Hunters.


The Chimera Ant king is born, bursting from the stomach of the queen--a violent birth for a violent being. He makes his first move on the neighboring country by manipulating its dictator to summon all the citizens to a ceremony at the capital. There he plans to Nen-baptize them, which will kill 99 percent of the population. The remaining one percent will have their Nen awakened, thus providing a healthy snack for the new king that not only tastes good but greatly increases his power. Can Gon and Killua find a way to stop this brutal Ant king?
---