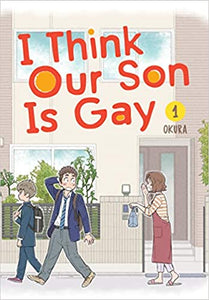 Square Enix Manga
I THINK OUR SON IS GAY VOL 01
Regular price
$12.99
$0.00
Unit price
per
A doting mother and her two beloved sons, one of whom she thinks is probably gay, go about their daily lives in this hilarious and heartwarming LGBTQIA+-friendly family comedy!
Despite belonging to a family of four, the Aoyama residence is typically home to three, with Dad away for work. Mom Tomoko and her two darling sons, Hiroki and Yuri, go about their everyday lives with little to disturb their gentle routines.
But as Hiroki begins his first year of high school, Tomoko can't help but wonder if her eldest has fallen for another boy. Though Tomoko is content to cheer on her son from the sidelines and let him work things out for himself, Hiroki's slips of the tongue are hard to ignore! With little talent for keeping his "secret," Hiroki might just die of embarrassment before all is said and done!
---