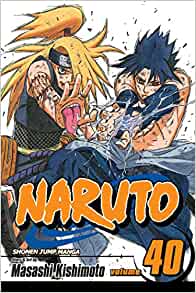 VIZ Media LLC
Naruto, Vol. 40
Regular price
$9.99
$0.00
Unit price
per
The world's most popular ninja comic!
Naruto is a young shinobi with an incorrigible knack for mischief. He's got a wild sense of humor, but Naruto is completely serious about his mission to be the world's greatest ninja!
It's Deidara vs. Sasuke! Is even Deidara's Ultimate Art no match for the all-powerful new Sasuke? Plus, deep inside the Land of Rain lies a secret of the Akatsuki that sheds doubt on the mysterious organization's true intentions as well as their bizarre leader, Pain.
---