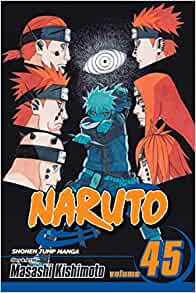 VIZ Media LLC
Naruto, Vol. 45
Regular price
$9.99
$0.00
Unit price
per
The world's most popular ninja comic!
Naruto is a young shinobi with an incorrigible knack for mischief. He's got a wild sense of humor, but Naruto is completely serious about his mission to be the world's greatest ninja!
Sasuke and Naruto find that their powers are ever-increasing. Sasuke can now use the Mangekyo Sharingan in multiple ways, and Naruto may have become even more powerful than his fallen sensei, Jiraiya! But is anyone powerful enough to stop the ultimate attack as the Pains of the Akatsuki launch their deadly strike against Naruto's home village?!
---