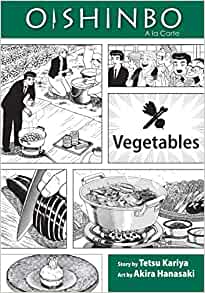 VIZ Media LLC
Oishinbo, Vol. 05: Vegetables
Regular price
$12.99
$0.00
Unit price
per
The best selling and most beloved food manga of all time!
As part of the celebrations for its 100th anniversary, the publishers of the
Tōzai News
have commissioned the creation of the "Ultimate Menu," a model meal embodying the pinnacle of Japanese cuisine. This all-important task has been entrusted to journalist Yamaoka Shirō, an inveterate cynic who possesses no initiative--but also an incredibly refined palate and an encyclopedic knowledge of food.
Weekly Time
magazine sets up a series of culinary battles between the
Tōzai News
's "Ultimate Menu," represented by Yamaoka, and the
Teito Times
's "Supreme Menu," represented by Kaibara Yūzan, Yamaoka's father and nemesis. The ingredient this time is vegetables, specifically cabbages and turnips. Who will win the Vegetable Showdown? Later, Yamaoka and Kurita help Tomii's son get over his hatred of eggplant, and patch a rift between lovers using the power of asparagus.
---