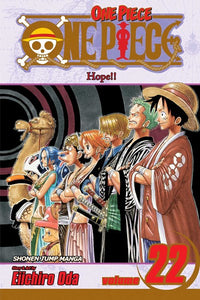 VIZ Media LLC
One Piece, Vol. 022
Regular price
$9.99
$0.00
Unit price
per
Join Monkey D. Luffy and his swashbuckling crew in their search for the ultimate treasure, One Piece!

As a child, Monkey D. Luffy dreamed of becoming King of the Pirates. But his life changed when he accidentally gained the power to stretch like rubber…at the cost of never being able to swim again! Years, later, Luffy sets off in search of the "One Piece," said to be the greatest treasure in the world...

When Crocodile's evildoing is revealed, the rebellion that will destroy Alabasta just might be averted... But the Baroque Works will do everything in their power to make sure that doesn't happen--even if they have to kill Princess Vivi! The Straw Hats will have the fight of their lives to keep this evil Croc from getting his way!
---