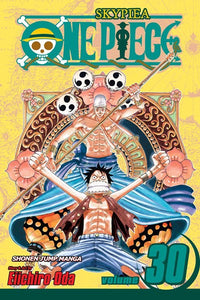 VIZ Media LLC
One Piece, Vol. 030
Regular price
$9.99
$0.00
Unit price
per
Join Monkey D. Luffy and his swashbuckling crew in their search for the ultimate treasure, One Piece!
As a child, Monkey D. Luffy dreamed of becoming King of the Pirates. But his life changed when he accidentally gained the power to stretch like rubber…at the cost of never being able to swim again! Years, later, Luffy sets off in search of the "One Piece," said to be the greatest treasure in the world...
As Kami Eneru plans to obliterate Skypiea with all his unsuspecting followers on it, Nami can only stand by as he wipes out the Straw Hats. Switching allegiances in order to survive, all she can do is hope for a savior. Could the best defense against a deadly lightning bolt from above be a certain rubbery pirate?!
---