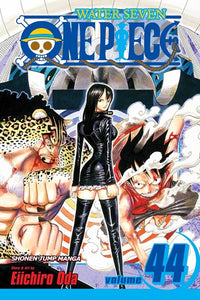 VIZ Media LLC
One Piece, Vol. 044
Regular price
$9.99
$0.00
Unit price
per
Join Monkey D. Luffy and his swashbuckling crew in their search for the ultimate treasure, One Piece!

As a child, Monkey D. Luffy dreamed of becoming King of the Pirates. But his life changed when he accidentally gained the power to stretch like rubber…at the cost of never being able to swim again! Years, later, Luffy sets off in search of the "One Piece," said to be the greatest treasure in the world...

The battle between Luffy and CP9 agent Rob Lucci escalates while the rest of the crew tries to escape to safety through the Gates of Justice. Suddenly, a fleet of warships sent by the Navy Headquarters arrives on the scene and begins bombarding the island. Will the crew get away before the island is blown to smithereens?!
---