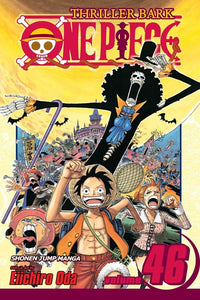 VIZ Media LLC
One Piece, Vol. 046
Regular price
$9.99
$0.00
Unit price
per
Join Monkey D. Luffy and his swashbuckling crew in their search for the ultimate treasure, One Piece!

As a child, Monkey D. Luffy dreamed of becoming King of the Pirates. But his life changed when he accidentally gained the power to stretch like rubber…at the cost of never being able to swim again! Years, later, Luffy sets off in search of the "One Piece," said to be the greatest treasure in the world...

When the Straw Hats encounter a mysterious barrel on the open sea, little do they know that it's a trap. Losing control of their ship, they're steered toward Thriller Bark. Any rational sailor would think twice before going ashore on an island full of zombies. But with Luffy at the helm, the Straw Hats are in for a scare as they become the targets of the dreaded Gecko Moria!
---