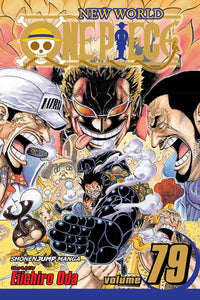 VIZ Media LLC
One Piece, Vol. 079
Regular price
$9.99
$0.00
Unit price
per
Join Monkey D. Luffy and his swashbuckling crew in their search for the ultimate treasure, One Piece!
As a child, Monkey D. Luffy dreamed of becoming King of the Pirates. But his life changed when he accidentally gained the power to stretch like rubber…at the cost of never being able to swim again! Years, later, Luffy sets off in search of the "One Piece," said to be the greatest treasure in the world...
The battle between Luffy and Doflamingo enters the final round. Luffy remains confident, but he'll need the aid of the people of Dressrosa if he is to have any hope of toppling this terrible tyrant. Can peace finally arrive for the long-suffering citizens of this island?!
---