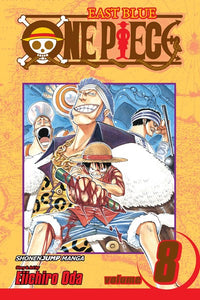 VIZ Media LLC
One Piece, Vol. 008
Regular price
$9.99
$0.00
Unit price
per
Join Monkey D. Luffy and his swashbuckling crew in their search for the ultimate treasure, One Piece!
As a child, Monkey D. Luffy dreamed of becoming King of the Pirates. But his life changed when he accidentally gained the power to stretch like rubber…at the cost of never being able to swim again! Years, later, Luffy sets off in search of the "One Piece," said to be the greatest treasure in the world...
Don Krieg's evil pirate armada attempts to hijack the oceangoing restaurant Baratie, but the pirate cooks put up a fierce resistance until Krieg reveals one of the greatest secret weapons in his arsenal--Invincible Pearl! When sous chef Sanji steps into the fray, it turns out that he and Chef Zeff have some unfinished business concerning the loss of the latter's leg! Will their differences come between them or make the Baratie stronger? Either way, unfortunately for Luffy, it turns out that Don Krieg harbors an even deadlier weapon--Gin, the very man whose life Sanji once saved with a square meal!
---