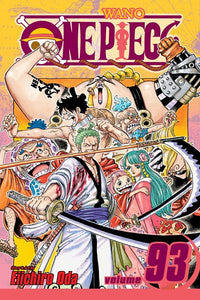 VIZ Media LLC
One Piece, Vol. 093
Regular price
$9.99
$0.00
Unit price
per
Join Monkey D. Luffy and his swashbuckling crew in their search for the ultimate treasure, One Piece!

As a child, Monkey D. Luffy dreamed of becoming King of the Pirates. But his life changed when he accidentally gained the power to stretch like rubber…at the cost of never being able to swim again! Years, later, Luffy sets off in search of the "One Piece," said to be the greatest treasure in the world...

Robin infiltrates the Shogun's palace in order to collect valuable intelligence, but she's quickly spotted by Orochi's henchmen. Can she be ninja-like and make a stealthy escape? Meanwhile, after his painful defeat by Kaido, how will Luffy escape the excavation labor camp?!
---