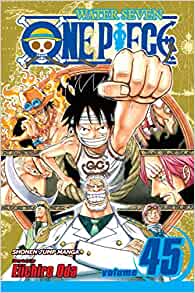 VIZ Media LLC
One Piece, Vol. 045
Regular price
$9.99
$0.00
Unit price
per
Join Monkey D. Luffy and his swashbuckling crew in their search for the ultimate treasure, One Piece!
As a child, Monkey D. Luffy dreamed of becoming King of the Pirates. But his life changed when he accidentally gained the power to stretch like rubber…at the cost of never being able to swim again! Years, later, Luffy sets off in search of the "One Piece," said to be the greatest treasure in the world...
Without a ship to sail, the Straw Hats are grounded for good. Luckily, the inhabitants of Water Seven rally together to help them out to show their appreciation. But the crew will need to set sail quickly when Vice Admiral Garp comes after them. Luffy knows all too well that he won't stand a chance if this fearsome Navy officer catches him!
---