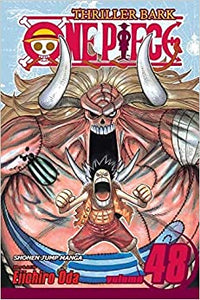 VIZ Media LLC
One Piece, Vol. 048
Regular price
$9.99
$0.00
Unit price
per
Join Monkey D. Luffy and his swashbuckling crew in their search for the ultimate treasure, One Piece!
As a child, Monkey D. Luffy dreamed of becoming King of the Pirates. But his life changed when he accidentally gained the power to stretch like rubber…at the cost of never being able to swim again! Years, later, Luffy sets off in search of the "One Piece," said to be the greatest treasure in the world...
The Straw Hats rush back into Thriller Bark in an all-out battle with Gecko Moria's Zombie Generals. But Moria has a secret weapon: Oars, a massive zombie warrior who's got all of Luffy's fighting skills! Have the Straw Hats finally met an opponent too powerful to beat?
---