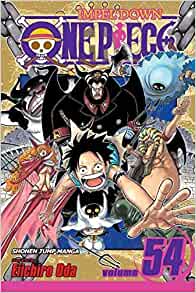 VIZ Media LLC
One Piece, Vol. 054
Regular price
$9.99
$0.00
Unit price
per
Join Monkey D. Luffy and his swashbuckling crew in their search for the ultimate treasure, One Piece!
As a child, Monkey D. Luffy dreamed of becoming King of the Pirates. But his life changed when he accidentally gained the power to stretch like rubber…at the cost of never being able to swim again! Years, later, Luffy sets off in search of the "One Piece," said to be the greatest treasure in the world...
With his brother Ace locked up in the Naval prison Impel Down, Luffy doesn't have much time to rescue him before his imminent execution. While he may have found a way to sneak into the maximum-security prison, finding Ace isn't going to be as easy. But a chance reunion with some former enemies just might be a blessing in disguise!
---