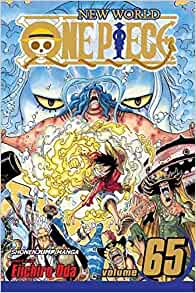 VIZ Media LLC
One Piece, Vol. 065
Regular price
$9.99
$0.00
Unit price
per
Join Monkey D. Luffy and his swashbuckling crew in their search for the ultimate treasure, One Piece!
As a child, Monkey D. Luffy dreamed of becoming King of the Pirates. But his life changed when he accidentally gained the power to stretch like rubber…at the cost of never being able to swim again! Years, later, Luffy sets off in search of the "One Piece," said to be the greatest treasure in the world...
The Straw Hat crew are the only ones standing in the way of the New Fish-Man pirates taking complete control over Fish-Man Island. And when Hody puts his diabolical plan into action, only Luffy can stop him. Luffy may have become much more powerful thanks to his training, but how can he hope to defeat a Fish-Man at the bottom of the ocean?!
---