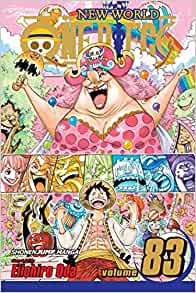 VIZ Media LLC
One Piece, Vol. 083
Regular price
$9.99
$0.00
Unit price
per
Join Monkey D. Luffy and his swashbuckling crew in their search for the ultimate treasure, One Piece!
As a child, Monkey D. Luffy dreamed of becoming King of the Pirates. But his life changed when he accidentally gained the power to stretch like rubber…at the cost of never being able to swim again! Years, later, Luffy sets off in search of the "One Piece," said to be the greatest treasure in the world...
Luffy and crew land on Whole Cake Island to take back Sanji! Meanwhile, the preparations continue for Sanji's wedding—including the arrival of the groom's family! It's gonna take more than luck for the Straw Hats to survive against the forces of Big Mom and rescue their crewmate!
---