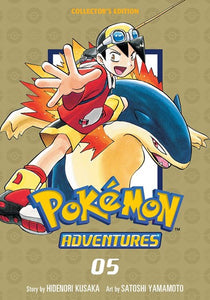 VIZ Media LLC
Pokémon Adventures, Collector's Edition Vol. 05
Regular price
$17.99
$0.00
Unit price
per
All your favorite Pokémon game characters jump out of the screen into the pages of this action-packed manga!
A stylish new omnibus edition of the best-selling
Pokémon Adventures
manga, collecting all the original volumes of the series you know and love.
The Pokémon Gym Leader exhibition matches have begun. Trainer Gold and Trainer Silver both want to discover the identity of a masked man plotting to invade the stadium. But Silver might have an agenda too! And then, in the first chapters of the
Ruby & Sapphire
arc, Ruby wants to do what his Gym Leader father never did—win Pokémon Contests!
---