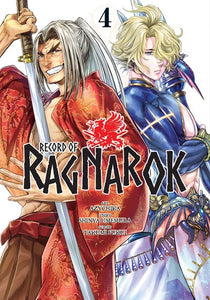 VIZ Media LLC
Record of Ragnarok, Vol. 04
Regular price
$12.99
$0.00
Unit price
per
Humanity's greatest heroes battle the gods for the survival of the human race!
Once every millennium, the gods assemble to decide if humanity is worthy of its continued existence or if it should be destroyed! When the verdict is destruction, the final battle between the gods and mortal heroes will decide the survival or extinction of the human race—a battle known as Ragnarok!
In the battle to decide the fate of humanity, the gods are up by two wins. Poseidon, the Greek god of the seas, enters the arena looking to extend the lead even further. To the crowd's astonishment, the human challenger Brunhilde sends to the field is Sasaki Kojiro. Can a fighter known for having never once won a single match also be humanity's greatest swordsman? Or is there more to Sasaki Kojiro's reputation as history's biggest loser than anyone can imagine?
---