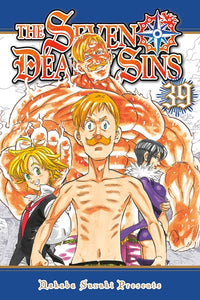 Kodansha Comics
The Seven Deadly Sins, Vol. 39
Regular price
$10.99
$0.00
Unit price
per
The swashbuckling fantasy action manga that inspired the Netflix Original Series anime!

Ongoing series. 13 and up.

Bonded Brothers, Bonded Friends

The Seven Deadly Sins have reunited with Meliodas and Elizabeth, and, with the group together again, are ready to take down the Demon Lord. As The Sins battle the Demon Lord's physical body, Meliodas and Gowther enter his mindscape in order to find Zeldris. But to save Zeldris from the Demon Lord's fierce hold, Meliodas will have to team up with an unlikely ally…Meanwhile, with the power of Sunshine that he borrowed from Mael, Escanor returns to his strongest form in order to protect his friends. But will the overwhelming power be too much for his body to handle?

Series Overview: Welcome to the land of Britannia, a picturesque country ruled by the benevolent King Lyonnesse - or at least it was, until the king's guard assassinated him and started a full-blown Holy War! Now the king's only daughter Elizabeth must seek the aid of the dreaded warriors the Seven Deadly Sins. Wrongly framed and sent into exile, they're now the princess's only hope to free the kingdom from the grip of the villainous Holy Knights!
Older Teen
---